Cunard World Voyage 2017: Queen Mary 2 itinerary
Follow Queen Mary 2 on her Cunard World Voyage 2017
Cunard Line's flagship, Queen Mary 2 is sailing around the world on her annual World Cruise. Below is her scheduled itinerary for the entire 118 nights.
[xyz-ihs snippet="cmeet2-fold"]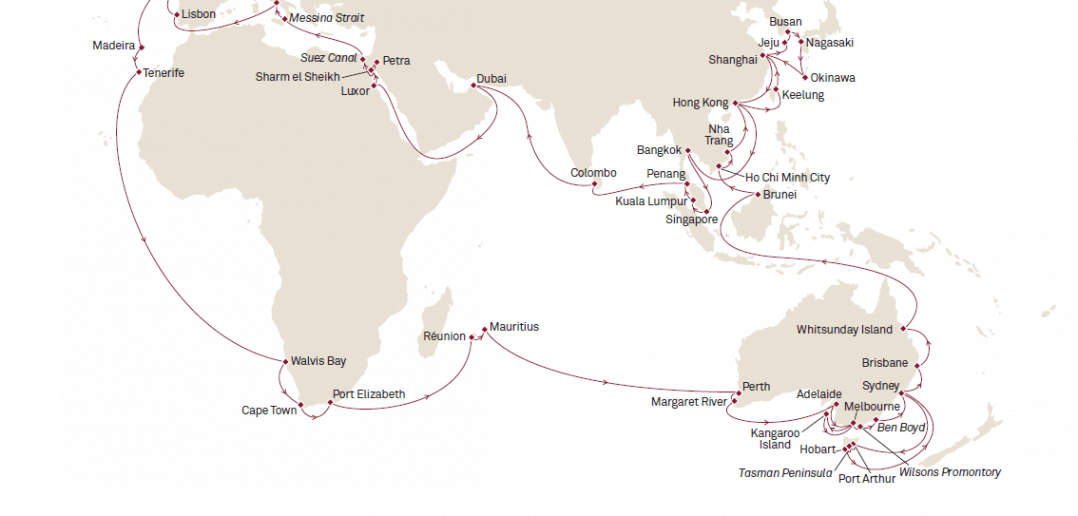 Queen Mary 2 will follow an incredible circuit during her 2017 World Cruise, stretching over 37,000 nautical
miles, visiting 38 different ports in 22 countries on four continents. The majestic scenery of southern
Africa and an extended acquaintance with Australia lie either side of the Indian Ocean, before the
dazzling diversity of Asia illuminates her route towards Arabia, the Mediterranean and home.
You can view a live webcam from Queen Mary 2 for the duration of her voyage.
| Date | Night # | Location |
| --- | --- | --- |
| January 10th | 1 | Southampton |
| January 11th | 2 | Sea |
| January 12th | 3 | Sea |
| January 13th | 4 | Sea |
| January 14th | 5 | Funchal, Madeira |
| January 15th | 6 | Tenerife, Spain |
| January 16th | 7 | Sea |
| January 17th | 8 | Sea |
| January 18th | 9 | Sea |
| January 19th | 10 | Sea |
| January 20th | 11 | Sea |
| January 21st | 12 | Sea |
| January 22nd | 13 | Sea |
| January 23rd | 14 | Sea |
| January 24th | 15 | Walvis Bay, Namibia |
| January 25th | 16 | Sea |
| January 26th | 17 | Cape Town, South Africa |
| January 27th | 18 | Cape Town, South Africa |
| January 28th | 19 | Sea |
| January 29th | 20 | Port Elizabeth, South Africa |
| January 30th | 21 | Sea |
| January 31st | 22 | Sea |
| | | |
| February 1st | 23 | Sea |
| February 2nd | 24 | Sea |
| February 3rd | 25 | Le Port, Reunion |
| February 4th | 26 | Port Louis, Mauritius |
| February 5th | 27 | Sea |
| February 6th | 28 | Sea |
| February 7th | 29 | Sea |
| February 8th | 30 | Sea |
| February 9th | 31 | Sea |
| February 10th | 32 | Sea |
| February 11th | 33 | Sea |
| February 12th | 34 | Perth, Australia |
| February 13th | 35 | Busselton, Australia |
| February 14th | 36 | Sea |
| February 15th | 37 | Sea |
| February 16th | 38 | Adelaide, Australia |
| February 17th | 39 | Sea |
| February 18th | 40 | Melbourne, Australia |
| February 19th | 41 | Sea |
| February 20th | 42 | Kangaroo Island, Australia |
| February 21st | 43 | Sea |
| February 22nd | 44 | Melbourne, Australia |
| February 23rd | 45 | Wilsons Promontory |
| February 24th | 46 | Ben Boyd National Park |
| February 25th | 47 | Sydney, Australia |
| February 26th | 48 | Sea |
| February 27th | 49 | Port Arthur, Australia |
| February 28th | 50 | Hobart |
| | | |
| March 1st | 51 | Sea |
| March 2nd | 52 | Sydney, Australia |
| March 3rd | 53 | Sea |
| March 4th | 54 | Brisbane, Australia |
| March 5th | 55 | Sea |
| March 6th | 56 | Whitsunday Islands |
| March 7th | 57 | Cairns, Australia |
| March 8th | 58 | Sea |
| March 9th | 59 | Sea |
| March 10th | 60 | Sea |
| March 11th | 61 | Sea |
| March 12th | 62 | Sea |
| March 13th | 63 | Bandar Seri Begawan, Brunei |
| March 14th | 64 | Sea |
| March 15th | 65 | Ho Chi Minh City, Vietnam |
| March 16th | 66 | Nha Trang, Vietname |
| March 17th | 67 | Sea |
| March 18th | 68 | Hong Kong, China |
| March 19th | 69 | Sea |
| March 20th | 70 | Keelung, Taiwan |
| March 21st | 71 | Sea |
| March 22nd | 72 | Shanghai, China |
| March 23rd | 73 | Jeju Island, South Korea |
| March 24th | 74 | Busan, South Korea |
| March 25th | 75 | Nagasaki, Japan |
| March 26th | 76 | Sea |
| March 27th | 77 | Okinawa, Japan |
| March 28th | 78 | Sea |
| March 29th | 79 | Shanghai, China |
| March 30th | 80 | Sea |
| March 31st | 81 | Sea |
| | | |
| April 1st | 82 | Hong Kong, China |
| April 2nd | 83 | Sea |
| April 3rd | 84 | Sea |
| April 4th | 85 | Sea |
| April 5th | 86 | Bangkok, Thailand |
| April 6th | 87 | Sea |
| April 7th | 88 | Singapore |
| April 8th | 89 | Singapore |
| April 9th | 90 | Kuala Lumpur, Malaysia |
| April 10th | 91 | Penang, Malaysia |
| April 11th | 92 | Sea |
| April 12th | 93 | Sea |
| April 13th | 94 | Colombo, Sri Lanka |
| April 14th | 95 | Sea |
| April 15th | 96 | Sea |
| April 16th | 97 | Sea |
| April 17th | 98 | Sea |
| April 18th | 99 | Dubai, UAE |
| April 19th | 100 | Dubai, UAE |
| April 20th | 101 | Sea |
| April 21st | 102 | Sea |
| April 22nd | 103 | Sea |
| April 23rd | 104 | Sea |
| April 24th | 105 | Sea |
| April 25th | 106 | Luxor, Egypt |
| April 26th | 107 | Sharm El Sheikh |
| April 27th | 108 | Petra |
| April 28th | 109 | Sea |
| April 29th | 110 | Suez Canal |
| April 30th | 111 | Sea |
| | | |
| May 1st | 112 | Messina Strait |
| May 2nd | 113 | Naples, Italy |
| May 3rd | 114 | Sea |
| May 4th | 115 | Sea |
| May 5th | 116 | Lisbon, Portugal |
| May 6th | 117 | Sea |
| May 7th | 118 | Sea |
| May 8th | - | Southampton |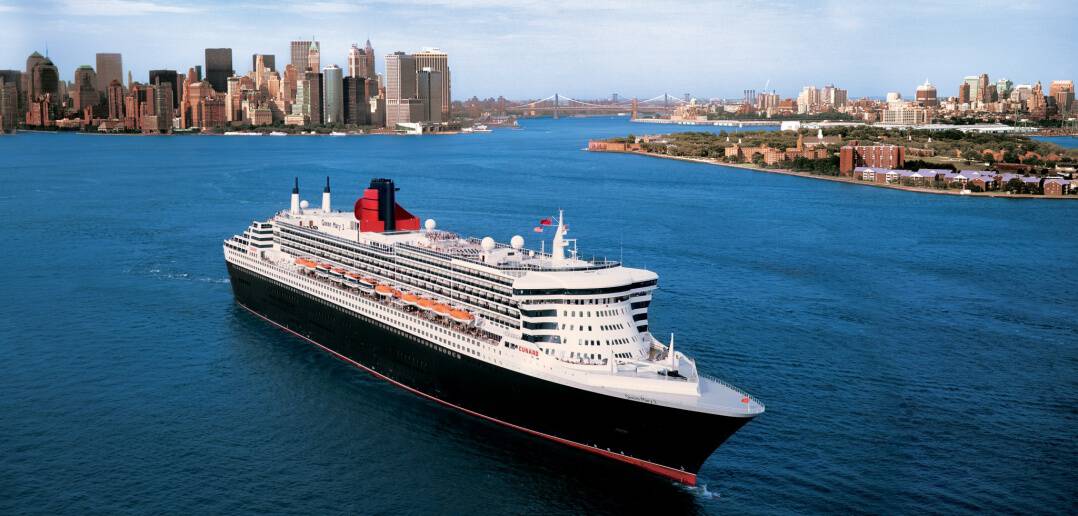 [xyz-ihs snippet="subscribe-plz"]