La Coruna
Today we awoke in La Coruna. This city is based in the North-West corner of Spain and its surrounding coast is referred to as the Costa da Morte (Coast of Death) this is because of the North Atlantic ocean that batters the rocky coastline here every day of the year. There have been many shipwrecks here in the past, recent times include the oil tanker Prestige which snapped in two in a wild storm during 2002. Thankfully, there isn't a trace of the 77,000 tonnes of crude oil that was spilt during that shipwreck.
BeyondCruise Live Voyage: MSC Magnifica – (Missed a day or just got here? Skip to any day!)
[xyz-ihs snippet="bc-inarticle"]
The ship is docked right in the city, next to a small marina full of sailboats. You walk out of the cruise terminal, past the statues that appear to be marvelling/waving goodbye to the cruise ships and straight onto a large promenade, lined by some beautiful buildings with many windows. There are temporary exhibitions held in this area and when we visited there was one on the construction of Titanic, unfortunately, it was all in Spanish, so we skipped it!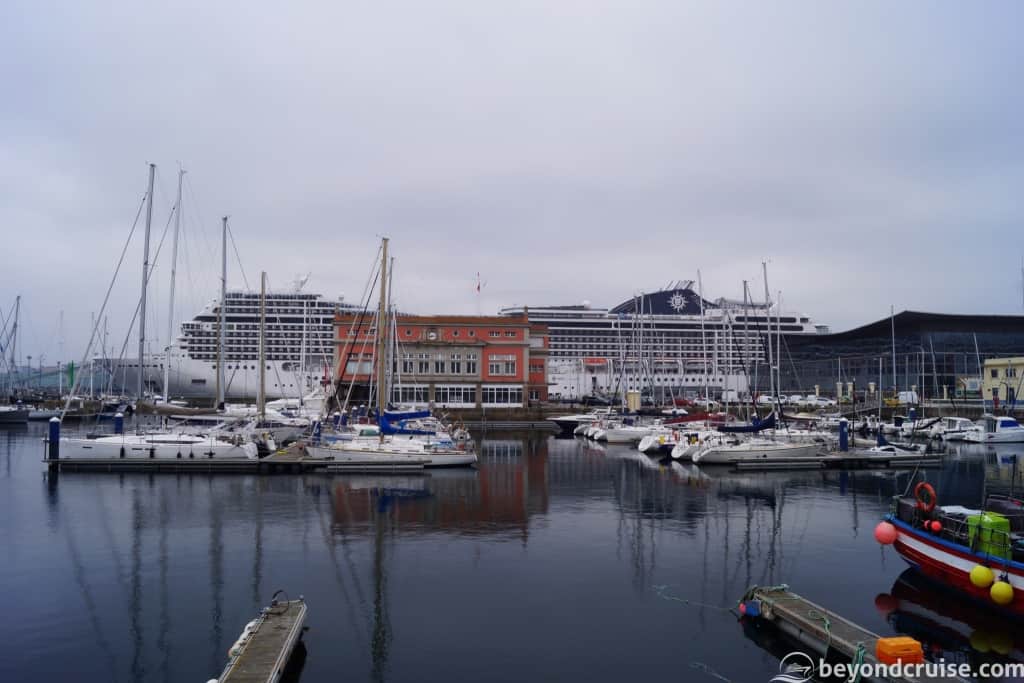 There is an archway around 500m along the promenade and if you pass through it you enter a square with La Coruna's Town Hall. Dotted around the square are many restaurants, with the familiar glass boxes that we saw in Porto.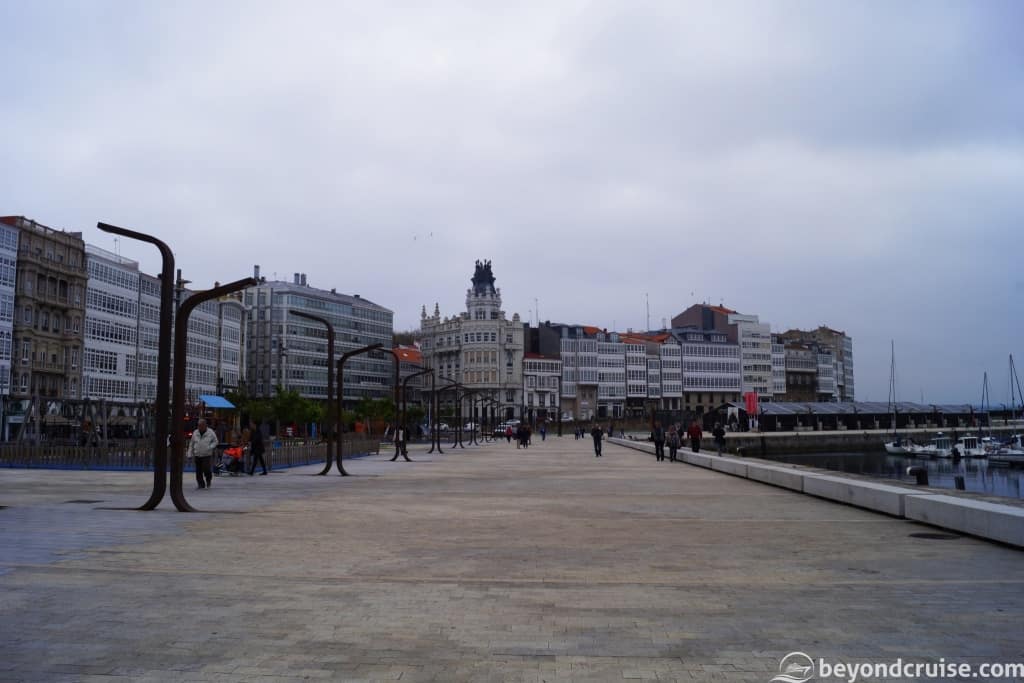 With limited time in La Coruña and exploring on our own, we decided we'd visit the Tower of Hercules, a must-see attraction of the area. We checked our map and were pleased to see it was only a 30-minute walk (however, we found there are a few steep hills!). When we finally showed up at the Tower of Hercules' carpark, a bus arrived with guests on an MSC excursion – probably a better way to visit the tower if you're considering it!
There is a free visitor centre at the bottom of the hill to the tower and there are guides and information panels inside in multiple languages, it is worth a visit.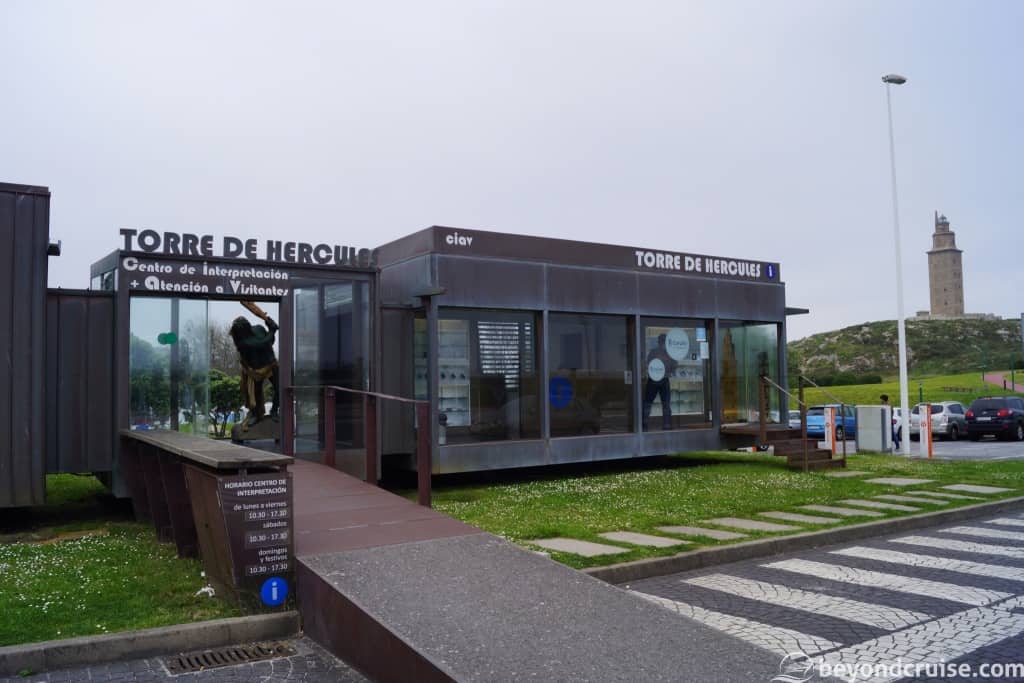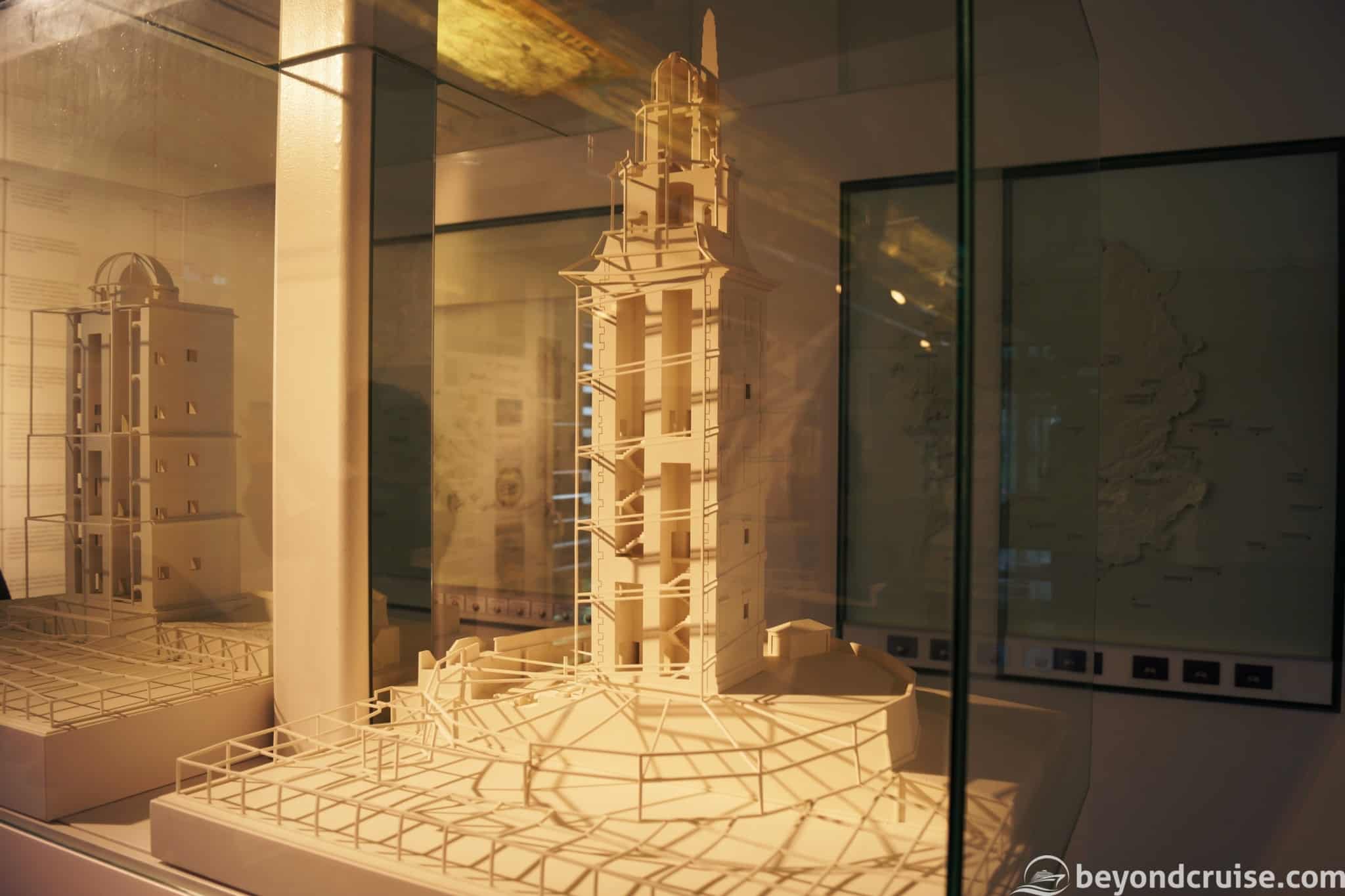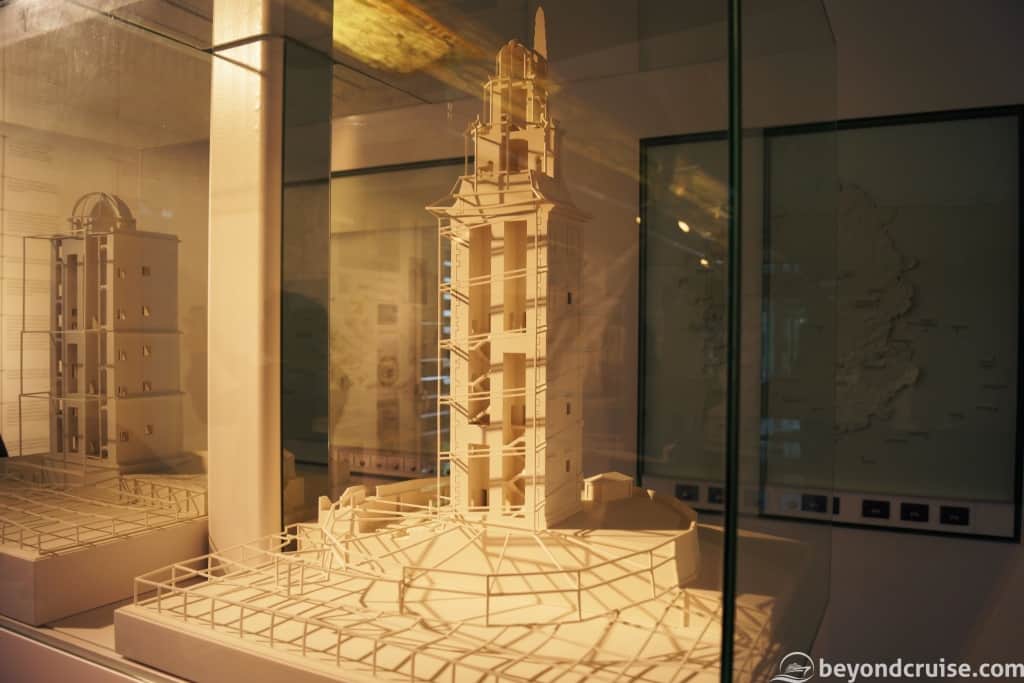 We climbed the last hill to the base of the lighthouse and were impressed by the views of the jagged coast and fields of yellow flowers. The sea looks extremely rough, even on a fairly mild day like this.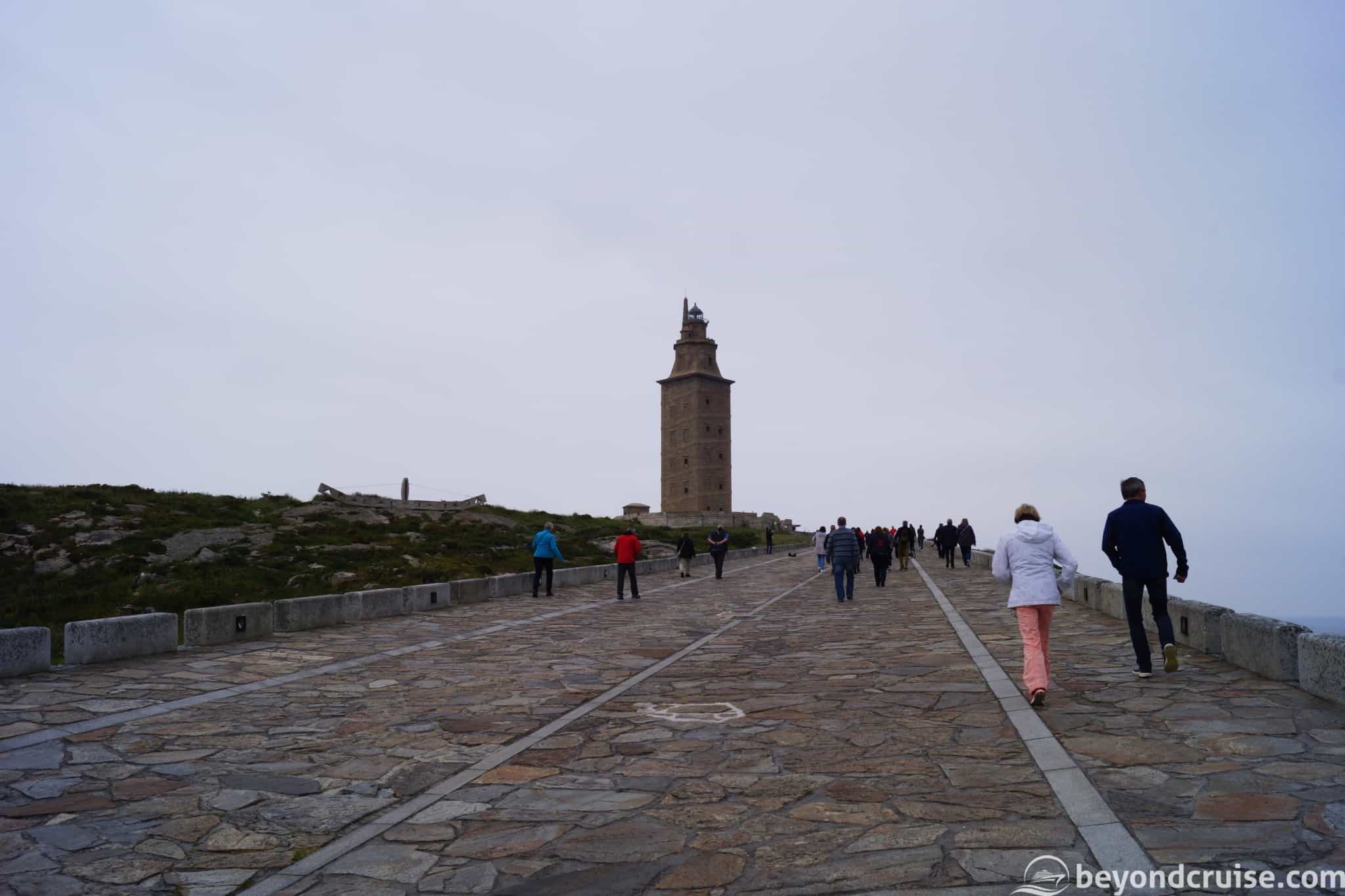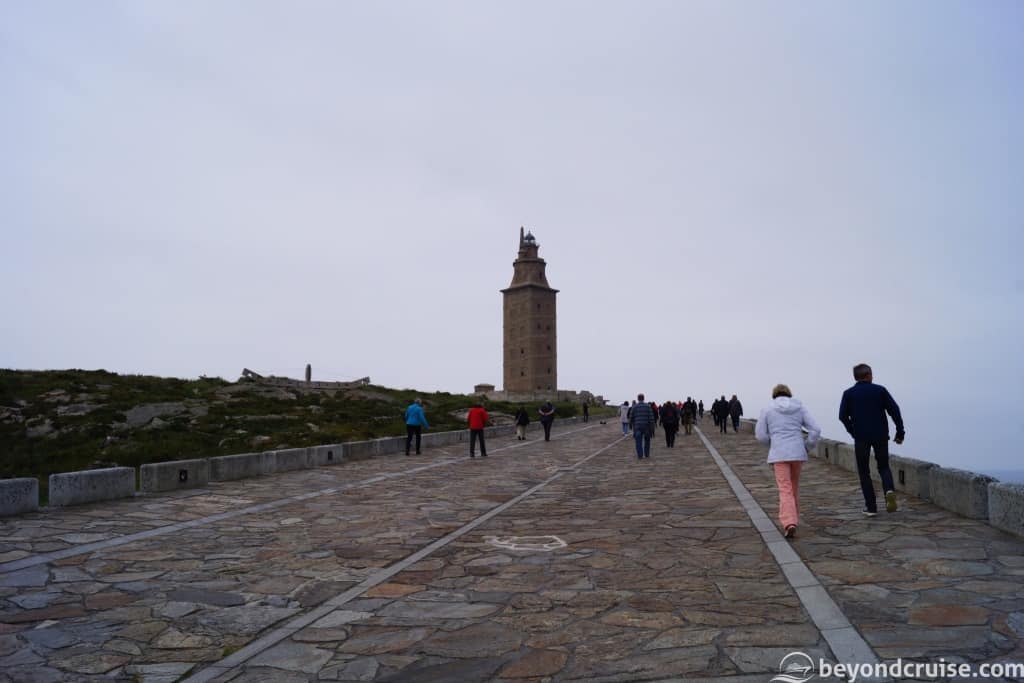 The Tower itself is named for the myth that Hercules heroically overthrew a cruel King that had terrorised the city, fighting Geryon the Giant for three days before finally beheading him and decreeing that the lighthouse was built upon his skull. Hercules then ordered the rebuilding of the city, naming it after it's first citizen, Crunna.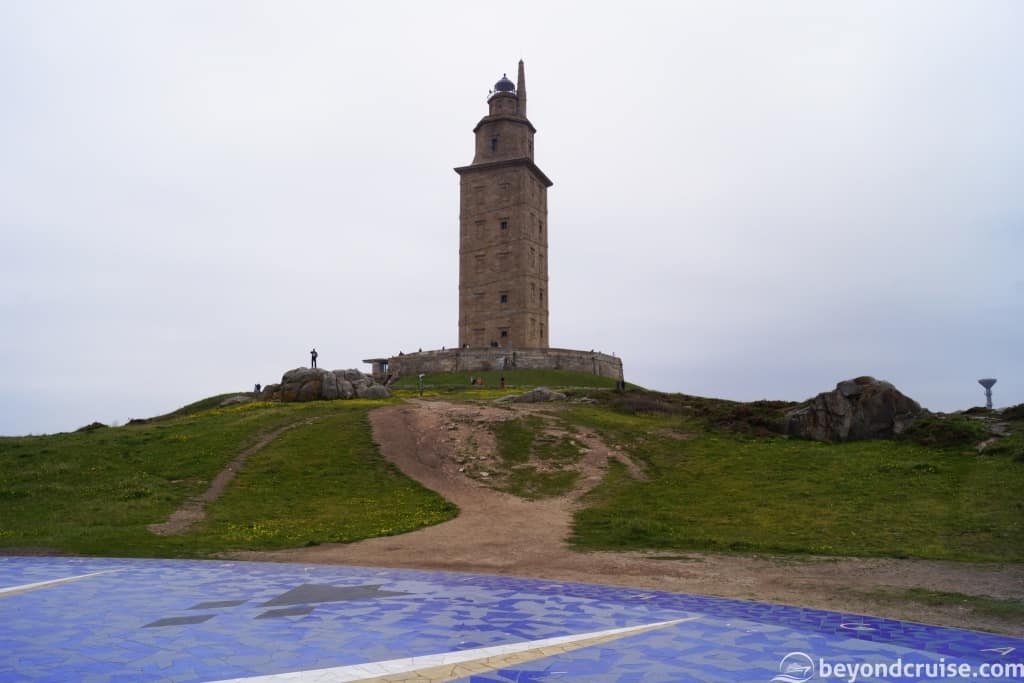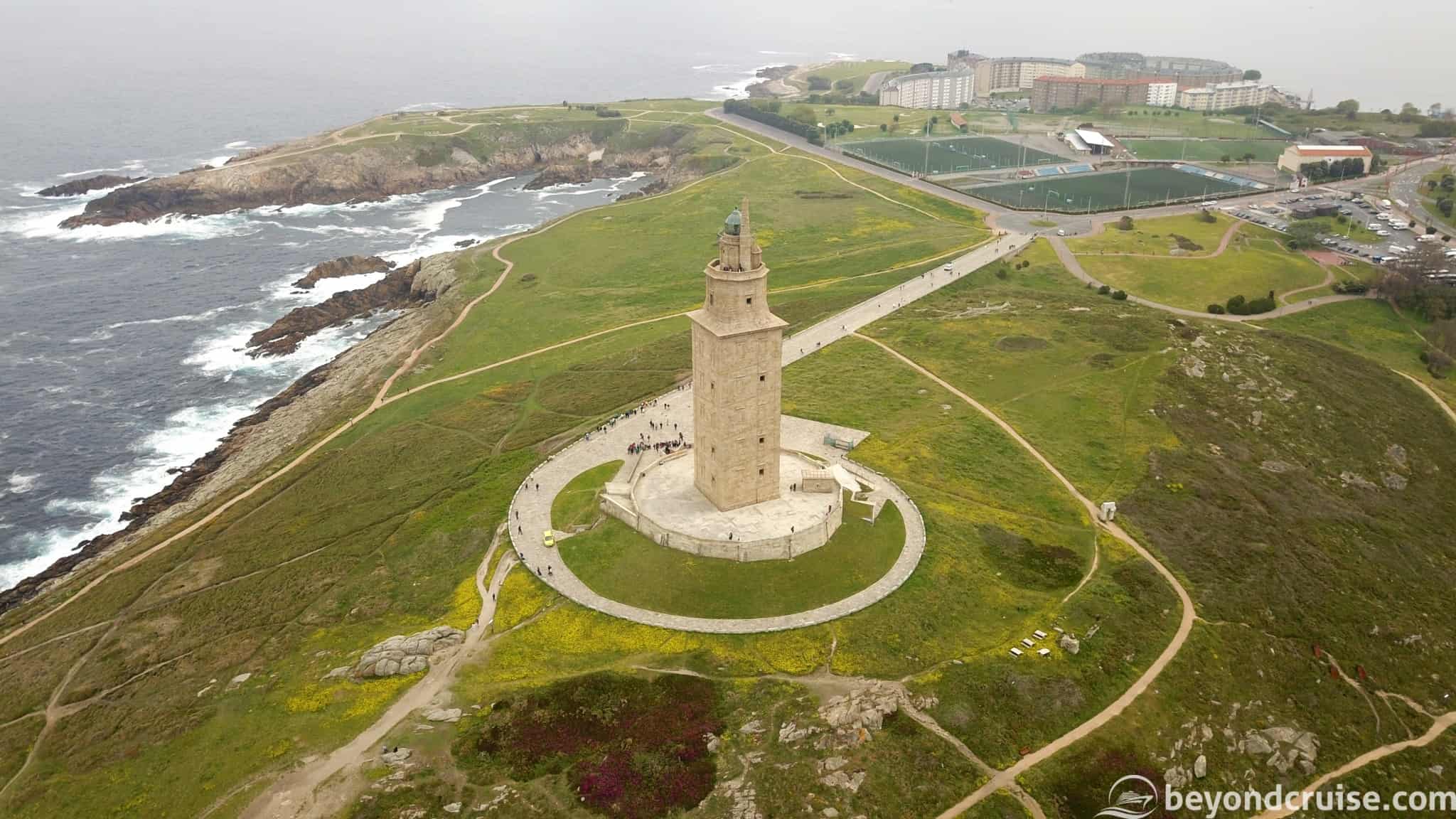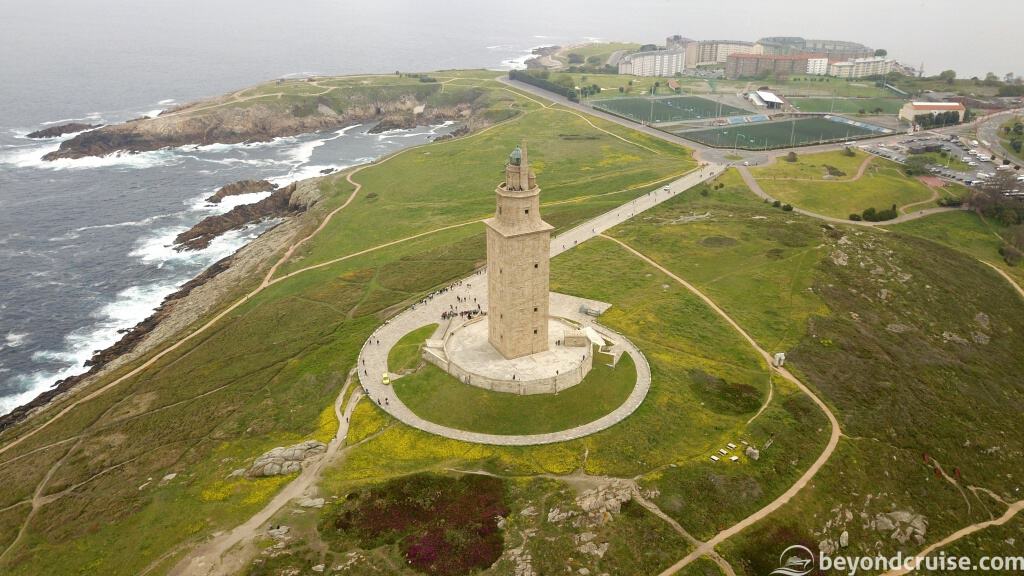 We're late to eat lunch so when we come across a small venue, Café Bar Áncora, with an English menu (of Spanish food) in the window and a sign indicating they accepted cards, we went in. The lady spoke very little English but we all had a laugh at the challenge of trying to order, she was actually very helpful and brought out our calamari, mussels, ham croquettes and french fries all piping hot. The food was delicious and it felt like quite an authentic experience sitting amongst locals drinking beer and eating olives, with Spanish TV on in the background!
[xyz-ihs snippet="bc-inarticle"]
On our way back through the city, we noticed a theme of shops with cured hams hanging from the ceilings, also selling fresh bread and other pastries. The smell in the air from these shops was delicious, even though we had just eaten!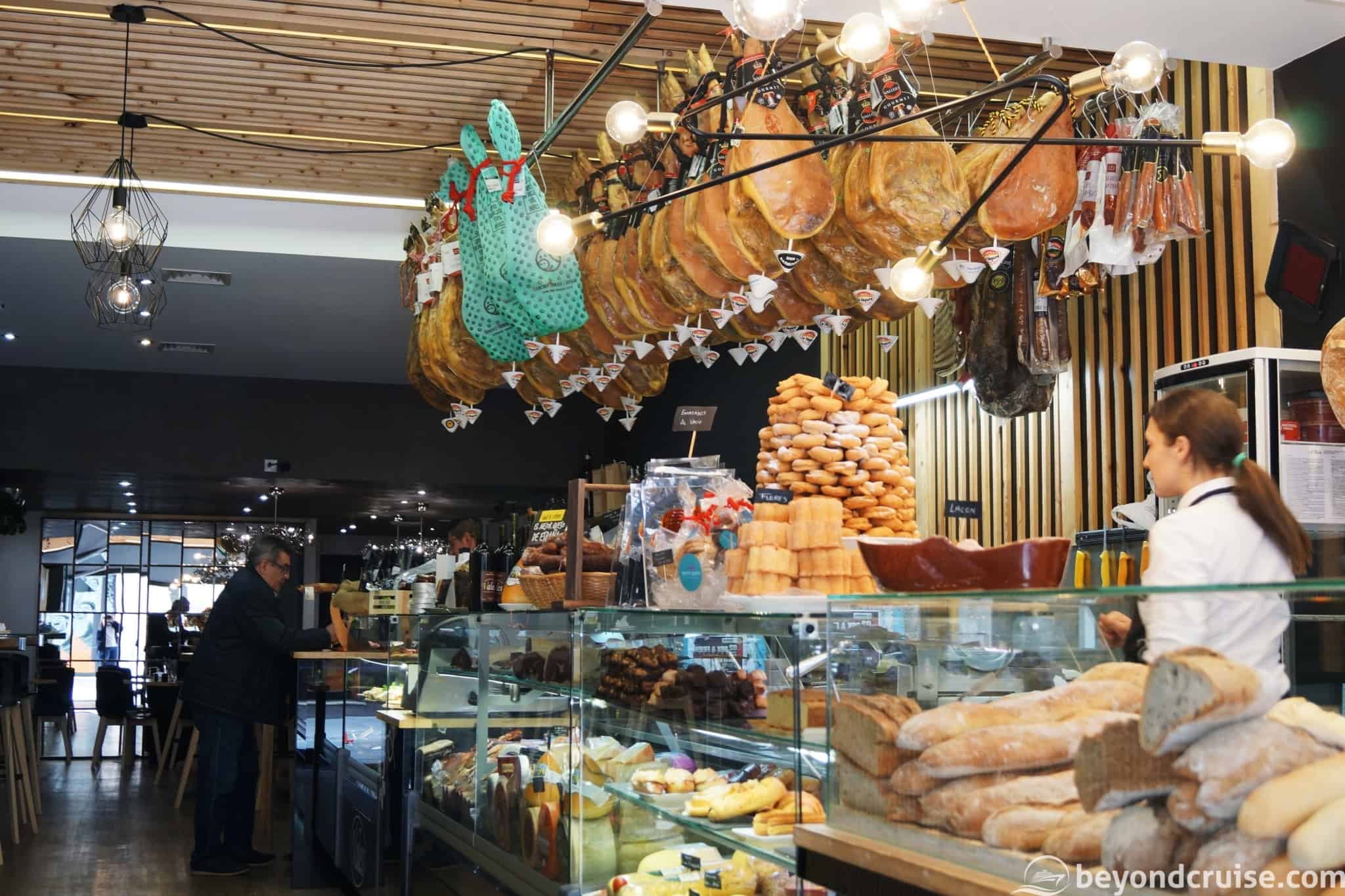 It was time to nip back through security, past the lines in the cruise terminal gift shop and board MSC Magnifica again.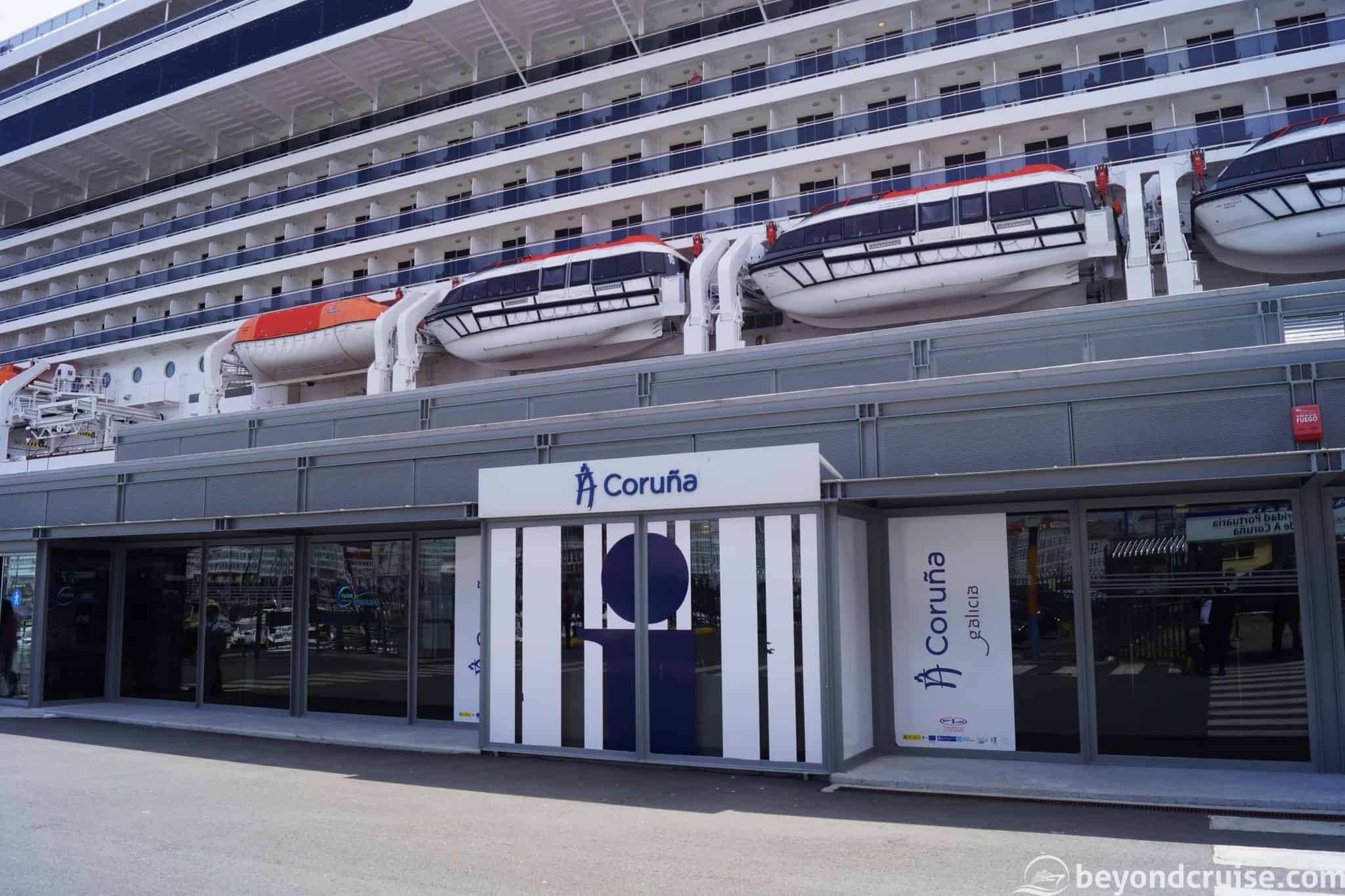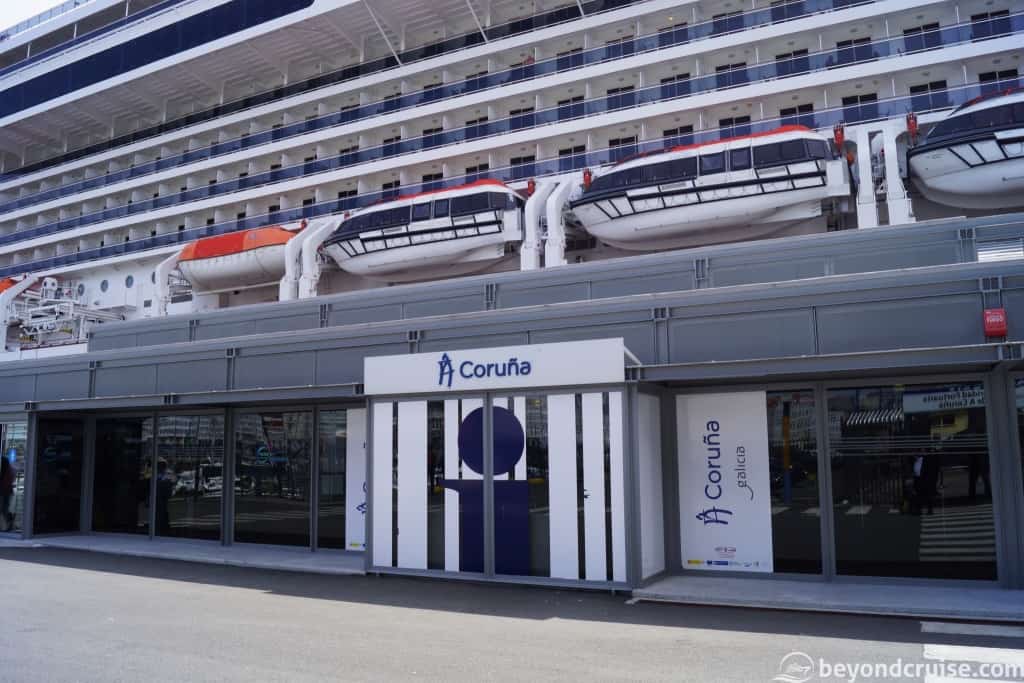 We headed to Deck 16 (Top 16 as it is called) to watch the sailaway and enjoyed drinks at the Il Bar Del Sole bar on this deck. We will talk about Top 16 more tomorrow as we plan to visit it properly on our sea day (depending on the weather!) Suffice to say, the view from up here is pretty incredible!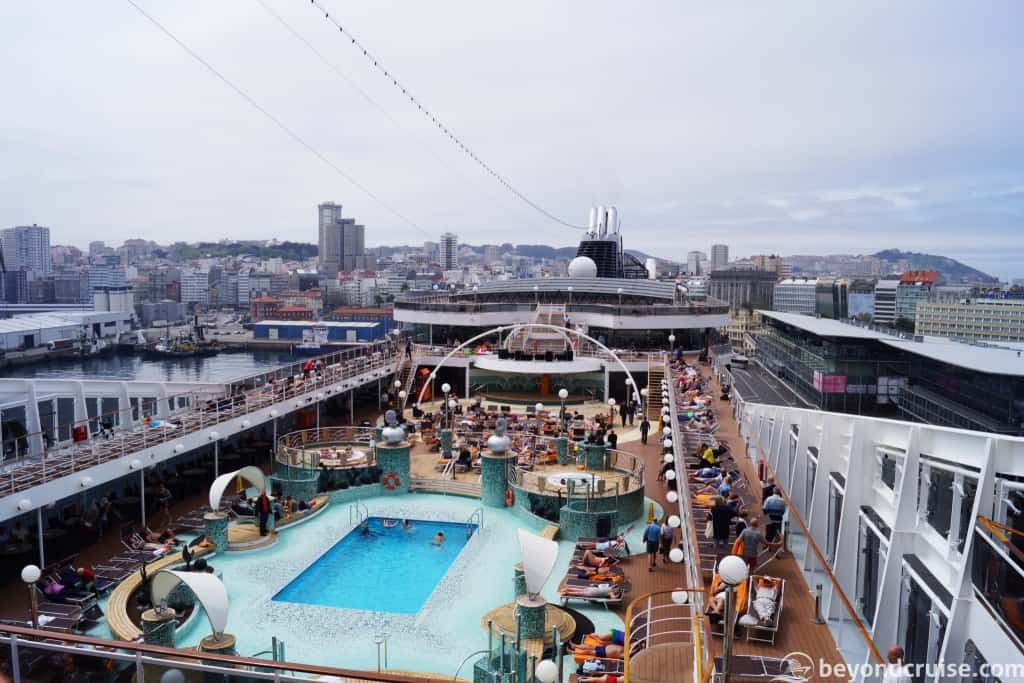 The sailaway from La Coruna was really enjoyable and the clouds cleared and the sun came out, with the last bit of Spanish sun we'll see for a while. We sailed out of the port and around the coast, slightly passing the Tower of Hercules that we had visited earlier and then we set sail into the Bay of Biscay.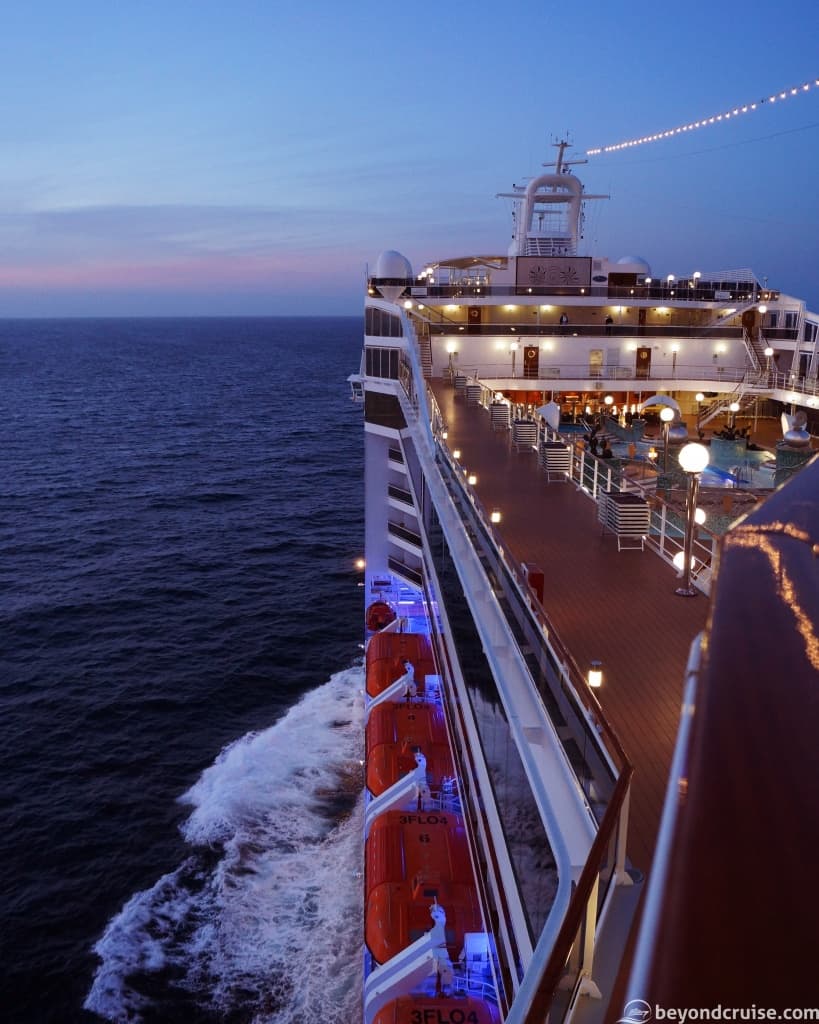 This evening we reserved a table at the Oriental Plaza restaurant – MSC Magnifica's speciality restaurant. They offer a range of Chinese, Thai and Japanese dishes. It was refreshing to dine in a much smaller venue and the decor of gold paintings and soft lighting made it feel like a special dining experience from the moment we were seated. We both started with the chicken wontons as recommended by our friendly host. They were hot and crunchy, the perfect starter. Next, we shared some nigiri, fresh salmon and tuna. This was one of Sara's favourites. A couple more small dishes of vegetable spring rolls and har kau (prawn dumplings) were both also delicious. Then we had some larger plates, Pad Thai noodles, Cantonese fried rice and a special treat of a lobster and mango rice parcel steamed in bamboo leaves. My favourite was the Cantonese fried rice which was probably one of the best I'd ever had! We hadn't intended on getting dessert but we were tempted by the cinnamon banana rolls which were served hot in a crispy pastry with chocolate sauce. They were as good as they sound! Overall we really enjoyed the food and would highly recommend a visit to this venue when you cruise on this ship!
After the meal, we headed to the Topazio Bar and enjoyed some live entertainment and some rather delicious cocktails before retiring back to our cabin.
The ship is starting to move a little now as we head through the Bay of Biscay, but thankfully we should be across it fully by the time we awake. Tomorrow is a sea day as we are travelling 802 nautical miles to the port of Amsterdam. Our arrival will be on the 10th May in the early afternoon. We are looking forward to sailing into this port by the IJMuiden locks – always a spectacle to see!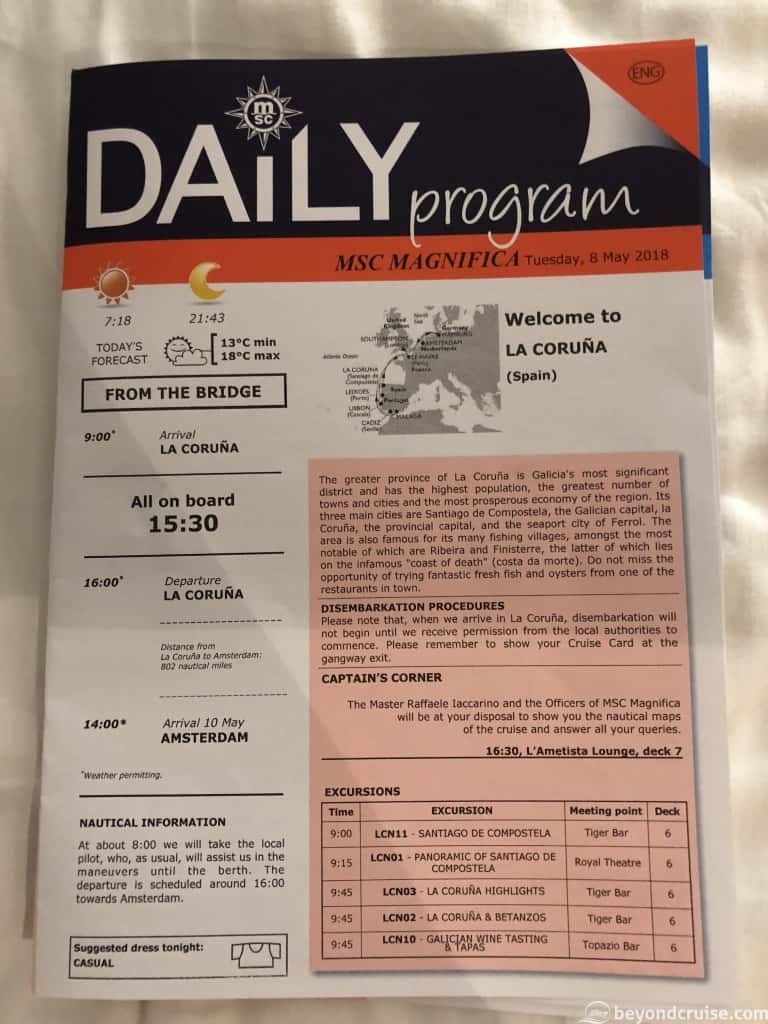 That's all for now! Don't forget you can follow us on our social media channels too:
BeyondCruise Live Voyage: MSC Magnifica – (Missed a day or just got here? Skip to any day!)
[xyz-ihs snippet="bc-inarticle"]