We've won an award… but we'd like some more!
Now recognised as a Top 50 cruise blog!
Cruisemeet has won an award! – just recently Feedspot.com, the place to find new sites and keep up to date with the ones you love, have placed us in their Top 50 Cruise Blogs on the internet!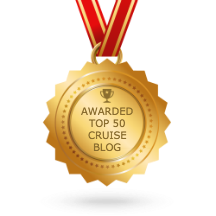 We're really pleased to start seeing some recognition for our hard work – we love bringing you the latest news and features on all things cruising; from the latest cruise ships being built to the stunning cruise port destinations and excursions that are available to all you avid cruisers!
We've lots of plans lined up for the future, with hopefully a return to some live blogs, more insider photos and videos of new cruise ships and exciting features the cruise lines have waiting for you!
In the meantime, we'd like to ask a favour – could you nominate us for another award? The more recognition we get the more content and exclusives we can bring you!
The Cruise International Awards 2017 are due to take place later this year – but you can nominate us right now on their website. Don't worry, you don't have to fill in every field on the form if you don't want to – but make sure you put us down for "Best Cruise Blogger" :)
Just click on the logo below to nominate us – it takes just a couple of minutes, and it closes on April 14th!
Thank-you to all our visitors and contributors to the site – your passion for cruising really inspires us to publish as often as we do and tell you as much as possible about how amazing cruising is!
Don't forget, you can receive the latest updates by following us on Twitter, Facebook or see beautiful cruise photos daily on our Instagram account. We also have great videos on our YouTube channel!
Finally, we also offer an email service for whenever we add a new article! Thanks! (and no, we don't sell your info or let anyone else see it!) – thanks again!